Minimal representations of real or p-adic Lie groups are analogs of the classical Weil representations of metaplectic groups. The theta correspondence studies the branching laws when minimal representations are restricted to a pair of mutually commuting subgroups. This transcendental version of classical invariant theory has seen significant progress in the past few years with several foundational problems resolved and has found applications in the theory of automorphic forms, arithmetic geometry and mathematical physics. In this workshop we will explore new avenues of research in view of these recent progresses.
Gordan Savin has done pioneering work in the theory of minimal representations and the theta correspondence, both in the classical and exceptional settings. This workshop is in honor of his 60th birthday.
The workshops will be held in hybrid mode with the platform zoom. zoom coordinates will be provided to the participants by email shortly before the beginning of the event.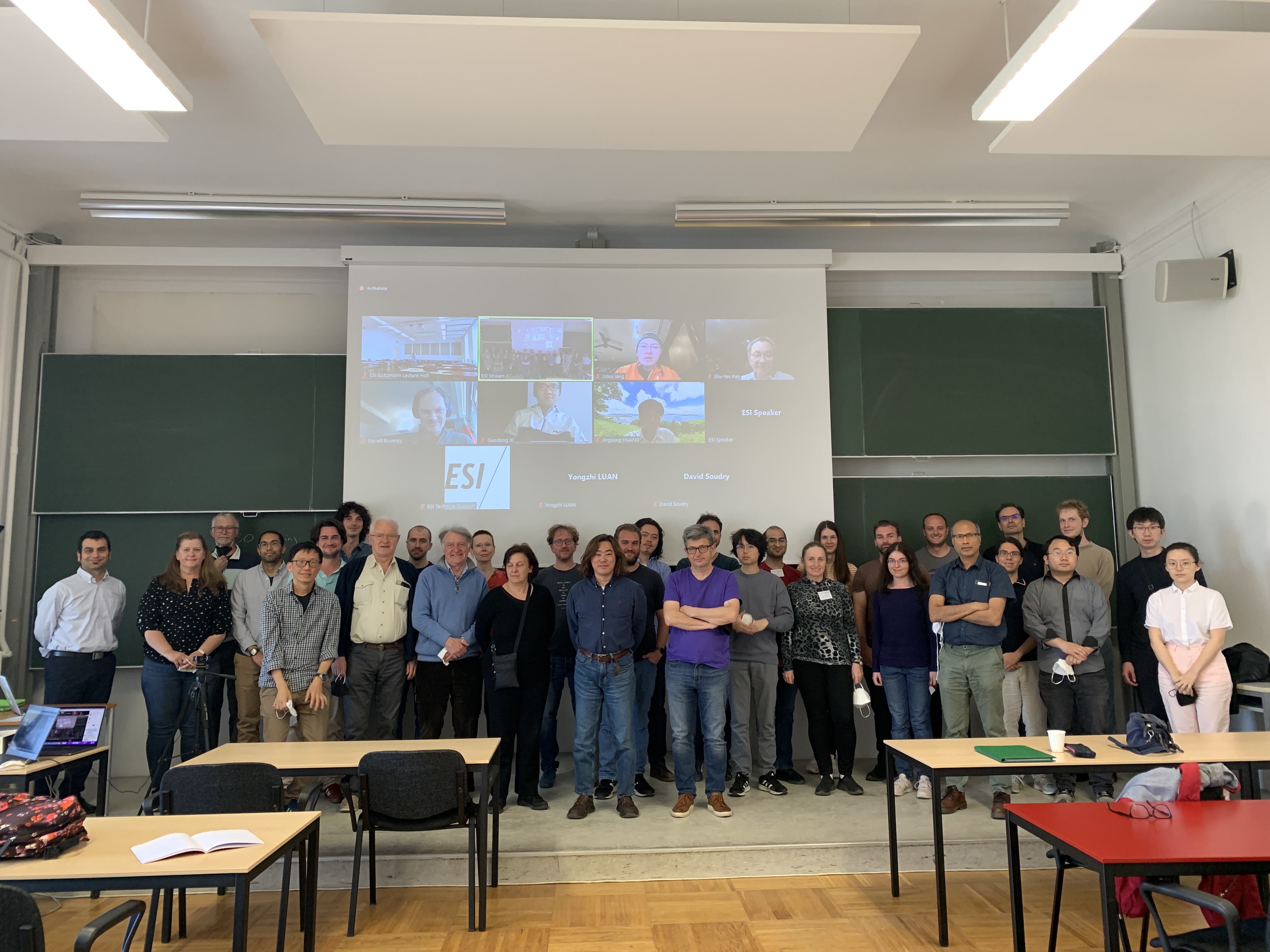 April 11, 2022 April 12, 2022 April 13, 2022 April 14, 2022 April 15, 2022
Organizers
| Name | Affiliation |
| --- | --- |
| Wee Teck Gan | University of Singapore |
| Marcela Hanzer | University of Zagreb |
| Alberto Minguez | University of Vienna |
| Goran Muic | University of Zagreb |
| Martin Weissman | University of California, Santa Cruz |
Attendees
| Name | Affiliation |
| --- | --- |
| Jeffrey Adams | University of Maryland |
| Hiraku Atobe | Hokkaido University |
| Anne-Marie Aubert | CNRS |
| Adel Betina | University of Vienna |
| Barbara Bošnjak | University of Zagreb |
| Adam Brown | Institute of Science and Technology Austria |
| Valentin Buciumas | University of Amsterdam |
| Giancarlo Castellano | University of Vienna |
| Kei Yuen Chan | Fudan University |
| Cheng Chen | University of Minnesota |
| Rui Chen | Zhejiang University |
| Gaëtan Chenevier | CNRS |
| Dan Ciubotaru | University of Oxford |
| Peiyi Cui | University of Vienna |
| Rahul Dalal | Johns Hopkins University |
| Johannes Droschl | University of Vienna |
| Melissa Emory | University of Toronto |
| Jan Frahm | University of Aarhus |
| Masaaki Furusawa | Osaka State Univeristy |
| Fan Gao | Zhejiang University |
| Johannes Girsch | Imperial College London |
| Harald Grobner | University of Vienna |
| Nadya Gurevich | Ben-Gurion University of the Negev |
| Guy Henniart | Université Paris Sud |
| Guanjie Huang | University of Michigan |
| Jing-Song Huang | Hong Kong University of Science and Technology |
| Atsushi Ichino | Kyoto University |
| Dihua Jiang | University of Minnesota |
| Eyal Kaplan | Bar Ilan University |
| Ed Karasiewicz | University of Utah |
| Axel Kleinschmidt | Max Planck Institute for Gravitational Physics |
| Toshi Kobayashi | University of Tokyo |
| Ruben La | University of Oxford |
| Thomas Lanard | University of Vienna |
| Nhat Hoang Le | National University of Singapore |
| Yusheng Lei | Tel Aviv University |
| Zhaolin Li | University of Minnesota |
| Baiying Liu | Purdue University |
| Hung Yean Loke | University of Singapore |
| Hengfei Lu | University of Vienna |
| Yongzhi Luan | Shandong University |
| Yi Luo | University of Singapore |
| Jiajun Ma | Xiamen University |
| Joachim Mahnkopf | University of Vienna |
| Lucas Mason Brown | University of Oxford |
| Finn McGlade | University of California, San Diego |
| Xinchen Miao | University of Minnesota |
| Kazuki Morimoto | Kobe University |
| Gil Moss | University of Utah |
| Sam Mundy | Princeton University |
| Emile Okada | University of Oxford |
| Shu-Yen Pan | National Tsing Hua University |
| Pavle Pandzic | University of Zagreb |
| Aaron Pollack | University of California, San Diego |
| Dipendra Prasad | Indian Institute of Technology Bombay |
| Anna Puskas | University of Queensland |
| Markus Reibnegger | University of Vienna |
| Gordan Savin | University of Utah |
| Haluk Sengun | University of Sheffield |
| Sheng-Chi Shih | University of Vienna |
| David Soudry | Tel Aviv University |
| Alexander Stadler | University of Vienna |
| Miyu Suzuki | Kanazawa University |
| Dani Szpruch | Open University of Israel |
| Marko Tadic | University of Zagreb |
| Shuichiro Takeda | University of Missouri |
| Justin Trias | Imperial College London |
| Wan-Yu Tsai | Chung Yuan Christian University |
| Chenyan Wu | University of Melbourne |
| Guodong Xi | University of Minnesota |
| Hongjie Yu | Institute of Science and Technology Austria |
| Lei Zhang | National University of Singapore |
| Ruishen Zhao | Sorbonne University |
| Chengbo Zhu | National University of Singapore |
| Sonja Zunar | University of Zagreb |